Post by Banana Cat on Apr 5, 2012 16:35:09 GMT -5
.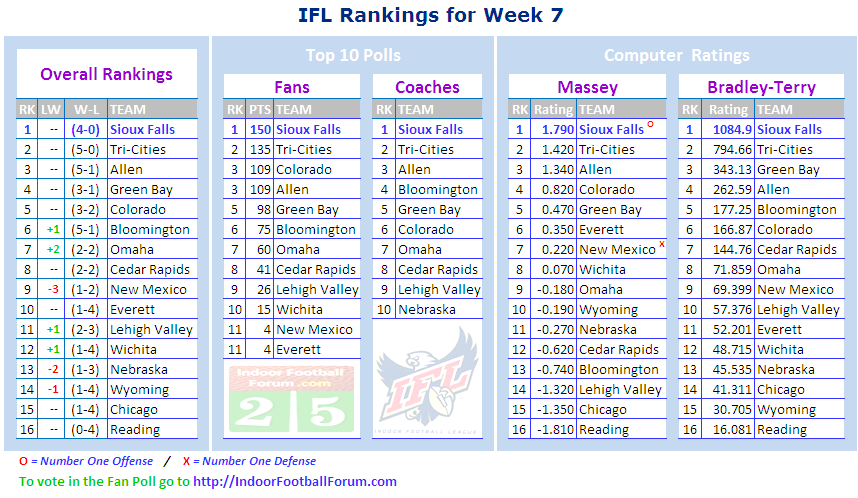 In the Overall Rankings, Sioux Falls becomes a unanimous overall #1 across the board for the first time this season as the Bradley-Terry Ratings finally vaulted them past Tri-Cities this week. Tri-Cities is a unanimous #2, Allen remains in the #3 spot, Green Bay in #4, and Colorado in #5. Bloomington jumps up to #6, Omaha jumps up to #7, Cedar Rapids remains in #8, New Mexico drops to #9 and Everett remains in #10 rounding out the top ten. Omaha made the biggest rise up the standings (2 spots) and New Mexico took the biggest fall (-3 spots). In the Fans Top 10 Poll
Sioux Falls remains a unanimous #1, Tri-Cities is #2, Colorado is #3, Allen is #4, and Green Bay in #5. Twelve team received votes this week, because the bottom positions are kind of gray right now with many teams jockeying for bottom position.
Thanks to all who voted in the Fans Top 10 Poll. Keep the votes coming each and every week and anyone else that would like to chime in is welcome to do so as well.
Bloomington got a very low ranking in the Massey Statistical Ratings, showing that the numbers are not impressed with them beating up weaker teams. Bloomington's schedule is not their fault however and you have to play the games in front of you. Everett on the other hand got big support from the Massey Ratings for playing tough teams tough despite the hardest schedule. Bloomington's schedule should allow them to slide into the playoffs fairly easily, but can they do anything once they get there or will they be one and done? Everett has quite the battle to make the playoffs however, a long shot to do so with their schedule, but anything's possible.
----------
The
IFL Fans Top 10 Poll
results are tabulated from votes of Indoor Football Forum members. To get your vote heard in upcoming polls, follow the directions here:
indoorfootballboard.proboards.com/index.cgi?board=generalifl&action=display&thread=5607
The
IFL Coaches Top 10 Poll
results are tabulated from votes of IFL Coaches and published weekly at
goIFL.com
The
Massey Computer Ratings
are based on in-depth calculations of stats and final scores. For more Massey analysis, go here:
www.masseyratings.com/rate.php?lg=ifl
The
Bradley-Terry Computer Ratings
are based off a formula on who teams win and lose against. For more Bradley-Terry IFL analysis, go here:
ezfootballrankings.com/ifl-1.php