Post by Banana Cat on Mar 26, 2012 20:21:33 GMT -5
siouxcityjournal.com/news/local/warm-weather-and-sioux-city-bandits-football-bring-tailgaters-to/article_d2b22409-9561-50ce-890c-d66205db7821.html
Warm weather and Sioux City Bandits football bring tailgaters to Tyson Events Center
By Nate Robson / siouxcityjournal.com
March 24, 2012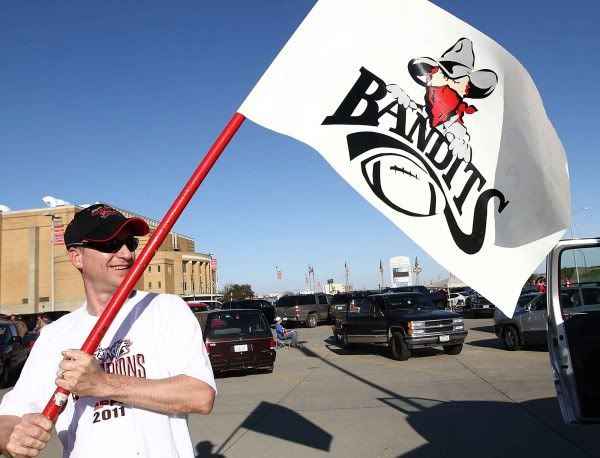 Journal photo by Jim Lee
Bill Wilson (aka BLZ), Kingsley, Iowa, hoists a Sioux City Bandits flag while tailgaiting prior to the Bandits season opener against the Oklahoma Defenders at the Tyson Events Center Saturday.
SIOUX CITY -- The burgers were hot, the beer was cold and the sun was shining on tailgaters kicking off the start of the Sioux City Bandits' football season Saturday.
Picnic tables, collapsible chairs, coolers and grills competed for space with traffic looking for a place to park at the Tyson Events Center hours before the game began. The smell of grilled burgers drifted as far south as Interstate 29 and the sound of rock 'n' roll floated between the rows of parked cars.
"The main thing is to have some fun with anything from burgers to (bratwursts) while enjoying the sun and a cold one," said Brent Frady, a spatula in one hand and a beer in the other. "We're just like the postman -- rain, sleet, snow -- nothing will keep us down."
Despite the sun, many stressed that they are not fair-weather tailgaters, and would have been outside grilling if the parking lot was filled with snow.
Season ticket holders Steve and Cissy Miller, both wearing red Bandits shirts, said they have spent many pregame hours in front of the events center on days cold enough to see their breath.
Steve Miller bragged that his family even knows the parking lot well enough to have a favorite spot.
"This spot is perfect, this is our spot," Miller said, as he pointed to one of the few trees surrounding the stadium. "This tree is great for those hot days -- gives lots of shade."
Christy and Doug Prohaska said they were at Saturday's game to cheer for their son, Bandits' running back Drew Prohaska.
The family, decked out in team colors, sipped at their beer and wine coolers while munching on cold-cut sandwiches and other non-cooked snacks.
"Burgers are good too, but cold cuts are good for this weather," Christy Prohaska said. "It's too hot."
For many, tailgating is just as much about sharing the experience outside with friends as it is about cheering on their team inside.

Frady said his group tailgated at the Bandits' championship game last year, but never made it into the stadium to see the win.

"The most important game of the year," Frady said with a grin. "We were just too comfortable to get out of our seats. The food was still warm and the beer was still cold and the game was coming in clear over the radio."
(okaaaay ... lol)